Flesh and Blood is about playing as your hero. You start the game at full strength, wearing down over the course of the battle. Each hero has a unique playstyle that captures the essence of their class and personality.
The Flesh and Blood constructed format is designed to replicate this experience. You begin by choosing a hero. In Welcome to Rathe, there are 4 heroes to choose from.
Bravo (Guardian)
Dorinthea (Warrior)
Katsu (Ninja)
Rhinar (Brute)
From here you construct your deck of 80 cards. Think of this as your Inventory. Your hero dictates what cards you may play. For example, if your hero is Dorinthea, you may have Warrior and Generic cards in your deck. Generic cards can go into any deck, regardless of what class you play. You may include up to three of each card.
Before a match begins, you must first prepare for battle. Both players reveal the hero they are playing as.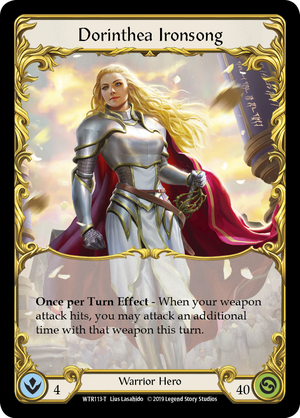 You may notice that this Dorinthea has more health than the one we showed yesterday.
In constructed, you get the full game experience and play with a hero that has a greater amount of health than its younger counterpart.
At the start of the game, each hero is given the option to start with up to one piece of equipment for each slot. (Head, Chest, Arms and Legs). These cards are chosen from your 80 card deck

You may also choose a weapon(s) provided they are from your hero class, so your hero can wield it.
You then choose at minimum 60 cards out of your 80 card deck. This will be the deck you use for battle.
The Flesh and Blood constructed format is best of one.
Flesh and Blood is designed with this best-of-one constructed format in mind, which is reflected through its gameplay. Throughout the game, you will experience different parts of battle as heroes exchange blows and become more fatigued in the fight.
The action begins from turn one. Every turn of the game is important and counts towards the end goal of reducing your opponent's life to zero.
Preparation for battle is important. Before every game, the decisions of what weapon(s), equipment and cards in your deck you bring for each opponent is crucial, there is no second chance to doubt yourself.
There are no dead cards - every card matters in a game of Flesh and Blood. Every card has multiple purposes, and cards you pitch early in the battle could end up in your hand again at a later point in the game. The early turns of the game can dictate the results of the game several turns ahead, so pitch wisely.
Tomorrow, we are proud to reveal the first of our Organised Play programs, The Calling, and announce details for the first two locations.