Łukasz Cichecki began playing Flesh and Blood in June, fighting his way through the Skirmish and Road to Nationals seasons, emerging in the top 10 players for Poland ahead of the National Championship. He got into the Flesh and Blood through a friend, coming from an extensive background as a gamer and drawn by the promise of professional play events.
'I played a lot of the classical card games, then I transferred to PC games; I almost tried every game that was big, back in the day. In each of these games, I tried to achieve at least something on an international level, and I succeeded in most of them. I wasn't really like a big shot in any of them, but I was out there playing on a pro level.
So then one of my friends, we were talking about the game; he was working in a retail store and they were about to get Flesh and Blood, and because I was playing a lot of different card games for the past 10 years, he was like "oh, maybe you'll be interested in it," and I went "why not?"
Then I saw the announcement on Twitter from one of my other friends, who's really big in card games, announcing the plans for professional play in Flesh and Blood. At the time, I wasn't involved in a pro scene for any game, so I was like "why not? it looks cool, and if there is any competition, I would like to try it."'
At first, Łukasz had only one LGS in his area who was hosting Flesh and Blood events. Living in the capital of Poland, Warsaw, Łukasz describes himself as lucky, with more LGS joining as he continued to play the game.
'So right now in Warsaw, we can play in around four Armorys per week, because the stores really adapt quickly. Our local community consists of about 20-25 players with different skill levels. Some are trying to be professional, some are playing more casually, but it's growing pretty fast and it's cool to see new faces.'
He credits the local community in his preparations for the National Championship, playing in plenty of local tournaments to hone his skills ahead of the big event. Łukasz organised drafts with a group of friends to practice their skills in the Limited format, planning out hero picks and talking strategy.
'So for the most part I just played mostly within the local community, I didn't play in any like dedicated bootcamps or meetings, I just played in Armory events with the local players. For the draft format, however, when we learned that the Championships are going to be six rounds Constructed and six rounds Limited, we were meeting with each other at least once per week and playing drafts within that group of eight people. These people are players with a history in other card games, so they weren't just your local, casual players, they were dedicated to these drafts.
We were talking about the Limited format, about the heroes picks, so I felt really prepared for the Limited part of the event, and for the Constructed, since before Tales of Aria I was a Chane player, and my deck got a little bit weaker with the card bans, I thought "hm, I will check what's the best deck before the Nationals, then I will pick this deck and play with it."'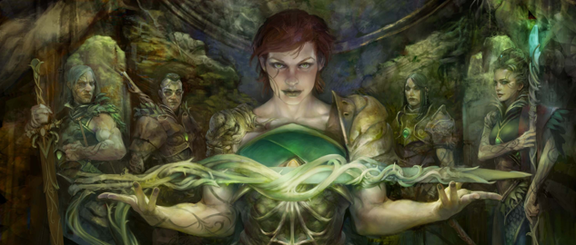 'I was expecting a lot of Briars at the event because of their popularity in the UK and US Nationals and how they performed; I also expect that there will be some Bravo decks because they were also performing quite good and were popular. I didn't expect Ninjas but they were there anyway, maybe because people didn't adopt or just didn't want to change the deck.
I was 100% sure that Briar was going to be the most player hero, so I focused on making my deck good against Briar, but in the end I didn't decide on what I'm going to play until like the night before the tournament. That's when I gave up on Chane, I gave up on Guardian, I was playtesting Chane at the hotel and I was losing with Chane and I thought "hm, I'm losing with Chane, I'm losing with Briar, I'm losing with zero-cost Briar, so I'm just going to be heroic Briar," my friend sold me on it and it paid off.'
Łukasz went into the event most confident about his Limited skills; the night before, with three decks packed into his bag, he playtested with friends to figure out which of the three were going to be the best bet for the National Championship.
'I prepared in the Limited format, so I was confident that I can make a positive start there, and I was- I wanted to make day two, so just got 2-1 Constructed, 2-1 Limited, then 2-1 Constructed again; then day two, top 24 would be perfectly fine for me.
Day One, I drafted Briar, I was perfectly confident in my Limited skills, the deck turned out good, it was a really nice deck. I made 2-1, I lost to one of the best players in the country, he was playing Guardian, and he just got me with dominated Glacial Footsteps. Other than that, I had no trouble beating the other two players, so 2-1 was an acceptable result for me for the first draft. For the second draft, however, since I was in the first pod, five players were forcing Briar. I was really dying inside when on the first pack I knew I had to draft 12 cards to my deck and I only managed to get 10, so I actually played my Day Two draft with two Cracked Baubles.
Fortunately, I didn't draw them, so I made 2-1 in the Day Two draft, too.
For Constructed, I didn't decide on the deck until the day before, I had three decks in my backpack and we were testing the night before in the hotel, so I wasn't sold on Constructed, but I knew that I could at least play on a decent level, so two and one is perfect expectation for me.
Turned out, I only lost one Constructed game for the entire event, and it was also due to my mistake, so.'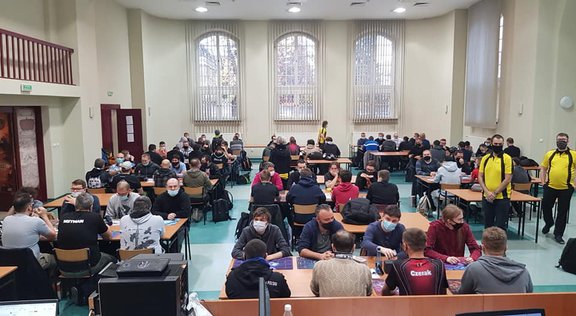 From there, it was a matter of momentum. Already prepared for the first match of the Top 8, Łukasz talked strategy with his friend ahead of the semifinal and final matches, taking a moment to collect his thoughts and calmly work through his sideboard.
'I knew my side of the brackets; I already knew what I'm going to do. So for the quarter-finals, it was actually a rematch with a player I faced in the Day One Constructed, and he was playing the zero cost Briar, so I already knew what to do. Because I'd already won with him, I was pretty confident I could do it a second time. Then for the semifinals and finals, before each match, I would go aside to take a ten minute break, drink something, and talk with my friend about how I'm going to sideboard, how I'm going to attack, and so I was able to beat the semifinal and final.'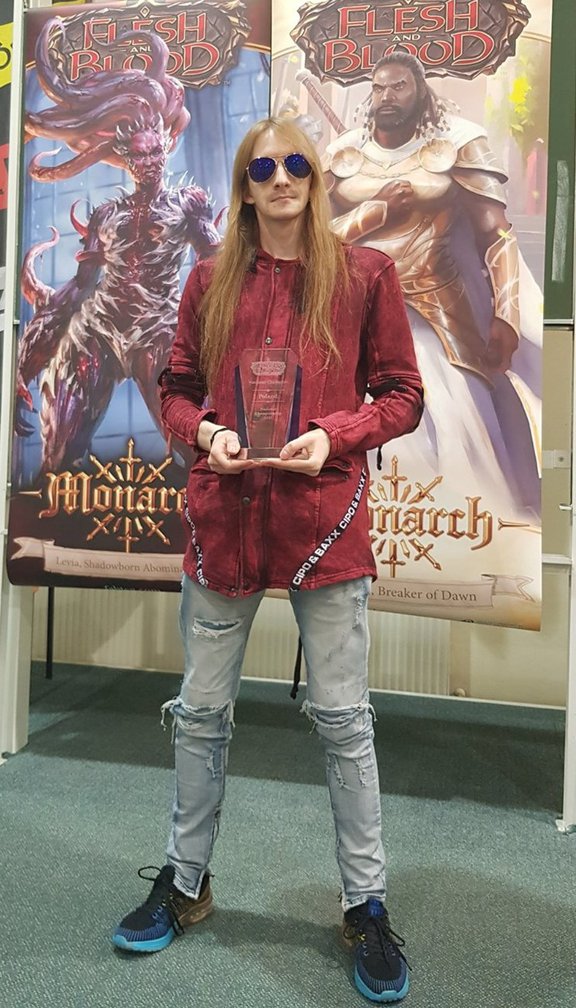 'The event was really well-organised, the event crew, the judge crew, they did an amazing job at making players comfortable, and we had a really good place to play; we didn't have to worry about anything.'
With the National Championship under his belt, Łukasz's focus is on future events, and challenging himself at upcoming competitions.
'I'm excited about- getting into the Top 8 gave me the Professional Tournament Invite, so I'm waiting for the sweet World Championship announcement, or any other Pro Tours that are probably coming, from what I know, and also there are like 30 Callings for the next year, which is really exciting, and I definitely plan to appear in some of them and compete for another Champion title.
I'm looking forward to being able to travel abroad and compete at an international level, and for the chance to face off with the best of the best players from other countries. National competition is fine, but international competition brings more enjoyment because obviously - best players from each country, obviously this is going to be a better mix than the best players from a single country. Because of competition and challenges, I would like to see how I face off with them.'
To any new players entering the competitive scene, Łukasz's advice is relatively straightforward - community, practice, and time.
'Start with your local community, just start playing with the free starter decks you can get in the stores. If you don't have any local game stores, then probably going on international discord servers or forums, just getting to know the community, you can still play on webcam.
I guess the best advice would be to just start playing, start reading articles, and don't just give up after the first few tries, because the game is really complex and it actually takes time to understand. With people that are new to card games, or people who have played other card games, cause Flesh and Blood is really unique when it comes to tempo and how the match is played. It's really easy to get the hang of things after a couple of games, so just continue playing and don't give up after a few bad matches.'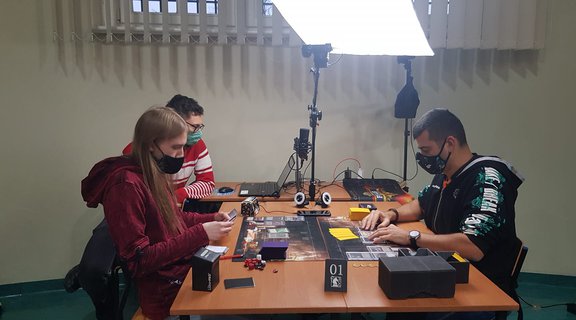 'I would like to give a shoutout to the local Warsaw community for training Limited together and special thanks to Maciej Janik (duofanel) for helping me out with the decklist and sideboard plans for Constructed part.
Also credits for Mariusz Suchanecki - He's ranked 1st in Poland lifetime points and national vice-champion. Best Boltyn in the world, creating content for FABLAB. I've learned a lot by watching his games and after the RTN season I followed his advices on how to improve as a player - turned out perfectly.'