After centuries of uneasy peace, the world of Rathe teeters on the brink of chaos once again. In a world plagued by conflict, you must fight for the chance to determine your fate. Will you succumb to the machinations of others, or will you choose your own path? Pick up your sword and prepare for battle; for no matter where you run, war will find you.
Welcome to Rathe is the first booster and hero deck set for Flesh and Blood, releasing October 11 in local game stores across USA, Australia, and New Zealand. Welcome to Rathe introduces four heroes:
Bravo, Showstopper, a flamboyant Guardian
Dorinthea Ironsong, a virtuous Warrior
Katsu, the Wanderer, a Ninja on a journey to discover himself
Rhinar, Reckless Rampage, an apex predator Brute
Hero Decks
Each hero is available as a pre-constructed Hero Deck, playable right out of the box. Each Hero Deck contains a cohesive 60 card deck + hero card, weapon, equipment set, and rule book. Hero Decks are designed for high replayability as a standalone product, perfect for kitchen table gaming, or as a foundation to build upon with booster pack content to craft a tournament winning deck.
Hero Decks are great value at an MSRP $10.99 USD / $17.99 AUD / $19.99 NZD.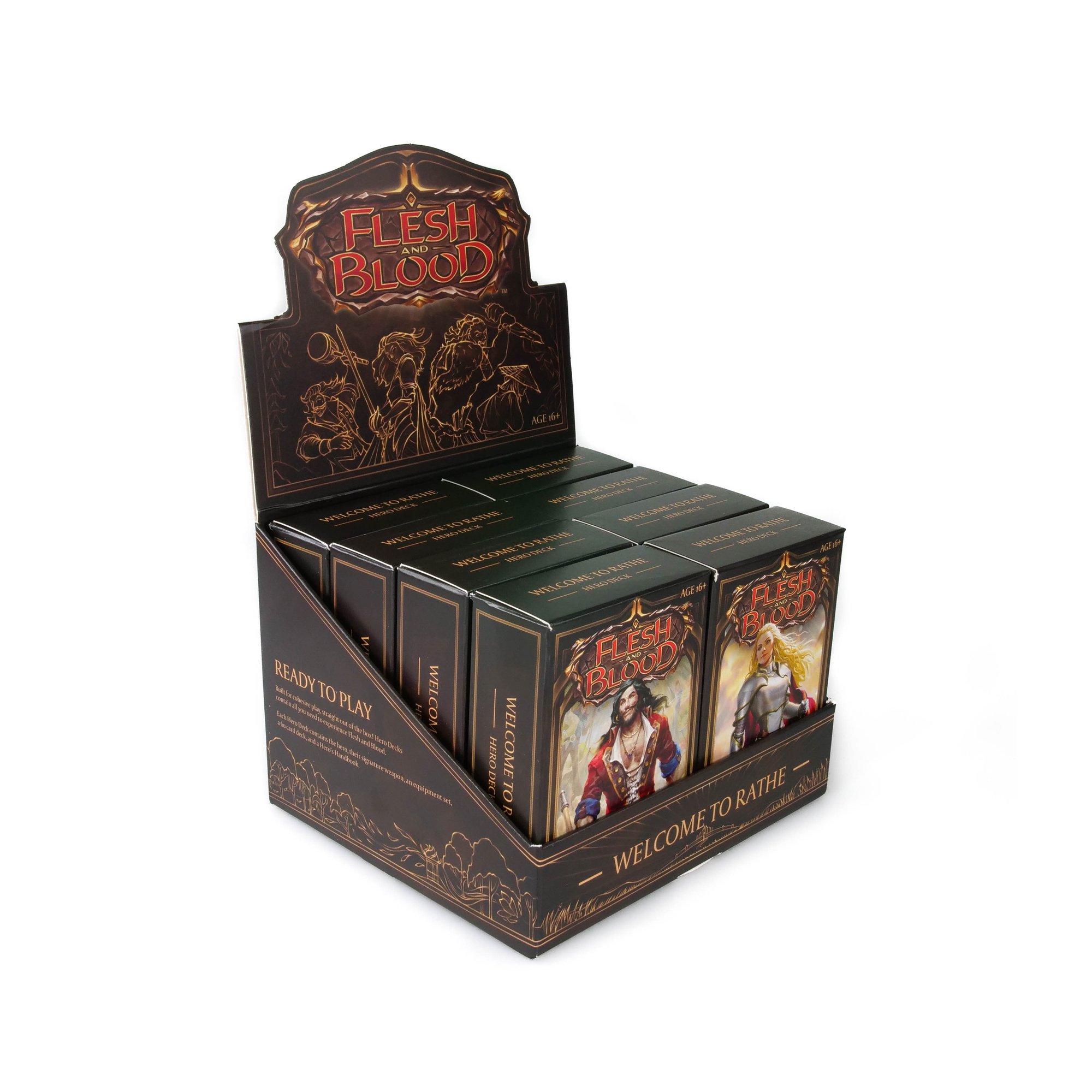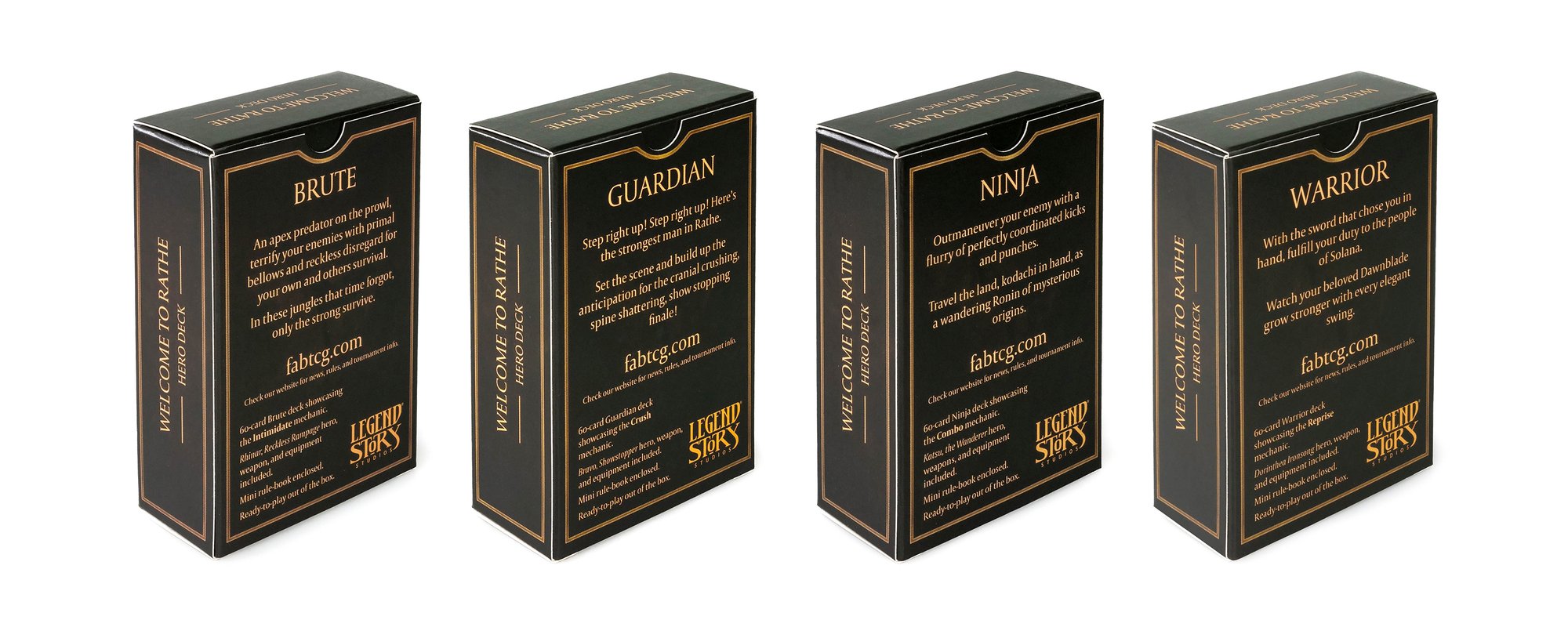 ---
Booster Packs
Heroes can also be found in Welcome to Rathe booster packs alongside rare and powerful surprises to be discovered on your adventure into the heart of Rathe. The Welcome to Rathe booster set contains 225 cards, and is designed for incredible booster draft and sealed deck play, in addition to being the primary way to obtain the most rare and powerful cards in Welcome to Rathe.
A booster display contains 24 booster packs, enough to support one 8 person draft pod, or 4 sealed deck players.
Booster pack MSRP $3.49 USD / $5.49 AUD / $5.99 NZD.
Booster pack configuration:
15 cards + 1 Token per pack
11 Commons

4 generic Commons
7 class Commons (being a mix of Brute, Guardian, Ninja, Warrior)

1 Rare
1 Rare / Super Rare / Majestic
1 Equipment
1 Premium Foil (can be any from any rarity)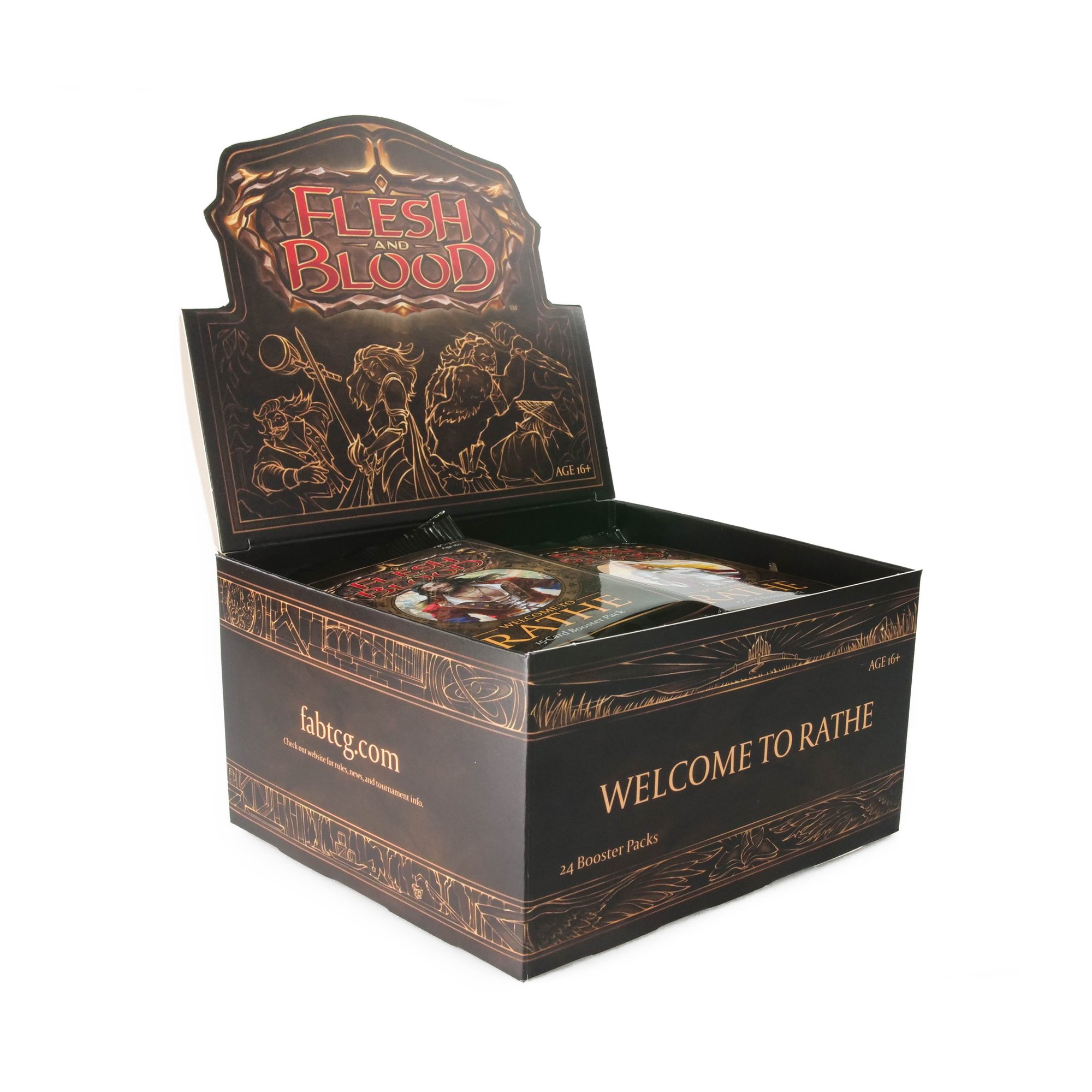 ---
The official Welcome to Rathe preview season begins next Monday on the 23rd of September, as we unveil the first of our heroes and cards from the set. Stay tuned for news and important updates, ahead of the worldwide release of Welcome to Rathe!